New, faster Internet speeds for Fixed Wireless customers with no price increase!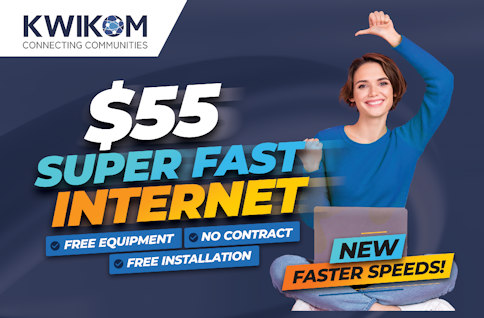 If you are not in our fiber area but are looking for super-fast, reliable Internet—we've got great news! KWIKOM just increased the speeds on our fixed wireless Internet service, and even doubled our speeds on some packages (without changing prices)!
Now, you can get 2X faster speeds on our most affordable package! It's just $55/month for 10 Mbps download speeds! And you can now get up to 60 Mbps download speeds—no matter where you live! Great news for gamers who don't live in a fiber area.
KWIKOM provides super-fast fixed wireless Internet service to over 30,000 square miles, encompassing over 75 counties in Kansas and surrounding states. So no matter where you live, we can provide you with fast, affordable Internet!
Current customers have already seen new faster download and upload speeds with NO increase in pricing. Of course, in our fixed wireless areas, speeds can vary depending on many factors. But rest assured, we are constantly improving our technology to make sure we deliver the absolute fastest speeds we can to all our customers–regardless of where you live!
Check out our new, faster speed packages below. To switch to KWIKOM now, just click HERE, fill out the order form and one of our friendly representatives will give you a call to schedule your installation!