KWIKOM expands fiber Internet to communities throughout Linn County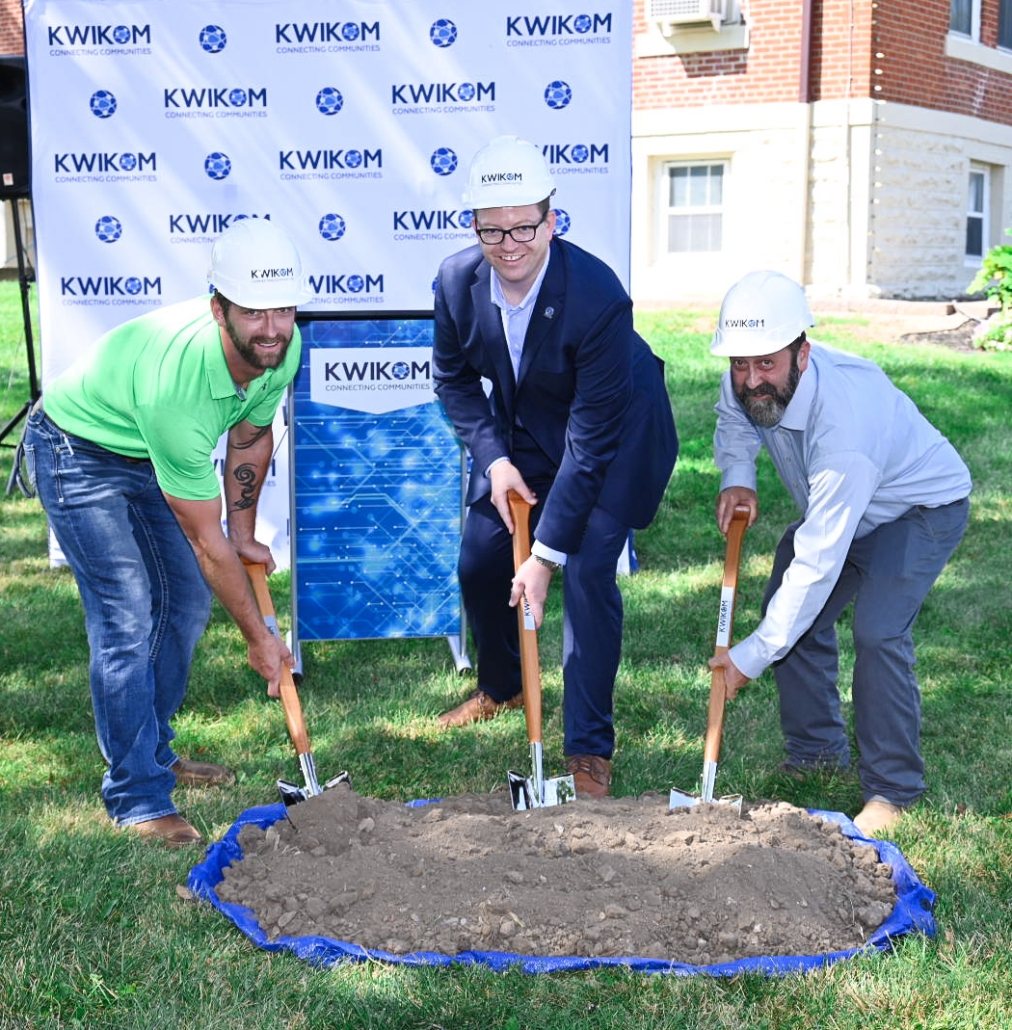 KWIKOM continued its exciting expansion plans last week by hosting an official groundbreaking for Linn County, KS.
KWIKOM President and Founder Zach Peres was joined by Linn County Commission Chair Danny McCullough, and KWIKOM Director of Government Affairs John Terry at the Linn County Courthouse in Mound City to mark the occasion. Representatives from the City of Blue Mound, the City of Parker, and the Linn County Journal were also on hand to celebrate Linn County's partnership with KWIKOM to develop over 40 miles of new fiber-optic infrastructure in Western Linn County. When completed, the project will deliver 10 gigabit capable fiber-optic internet and a scalable fiber backbone that can be expanded upon to meet future broadband demands in rural Linn County.
Construction in Linn County is actively underway between Greeley and Parker, and much of Parker already has fiber in the ground.
According to John Terry, "We truly appreciate the efforts of Linn County in addressing the critical need for broadband, and we share the belief that the choice to live and work in rural Kansas should not mean being shut out from quality internet access. We look forward to working with Linn County on future Grant projects, and there are several on the near horizon."
While this project provides an excellent start, KWIKOM recognizes the need for further expansion to bring fiber to additional parts of Linn County. In fact, as part of the Kansas Office of Broadband Development LINC project, KWIKOM applied for a middle mile extension that will increase the fiber backbone from Blue Mound to the Anderson County line along K-31. Should this grant succeed, it would allow KWIKOM to build upon this excellent foundation to eventually serve all of Western Linn County.
KWIKOM has been actively providing broadband wireless Internet in Linn County since 2017 and has continued to invest in the County as the demand for services grows in areas that are traditionally overlooked and underserved. Additionally, as a participant in the Federal Affordable Connectivity Program, KWIKOM will offer discounted internet to qualified applicants, providing substantial savings to those most in need.