Altoona, KS Internet Expansion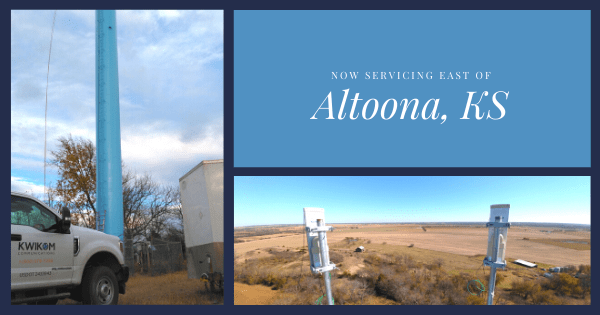 We are proud to announce that we have partnered up with Wilson County RWD #10! This will provide the use of their water towers to expand our existing high-speed internet to the area. Service is now available on the tower east of Altoona, KS. Internet with speeds of up to 25mbps for your home or business and optional phone service is available in-town and the surrounding rural area.
Unable to get service in the past? By expanding our coverage area, this may provide service to locations that weren't able to before. Submit your information today to learn more.
Enjoy streaming, gaming, browsing, working from home, and much more with KwiKom's reliable unlimited Internet service. All while having peace of mind with KwiKom's included wireless router, equipment protection, and customer-focused local customer support, all for no hidden fees or cost.
Business Internet services, phone, fax, PBX (office phones), and other enterprise business services are also available from KwiKom.
Service is available in town and the surrounding rural area for new subscribers. You can order new service for your home by clicking here, for your business by clicking here, or by calling us at 800-379-7292.